Did someone – or some thing – bust your Tacoma's antenna? If so, you're probably looking for a replacement. While you can wander over to your local dealership parts department and order an antenna, you should know that there are a few different antenna replacement options available outside the dealership.
But before we talk about replacement options, let's talk about how you can get the old antenna out and the new one in.
Step 1) Figure out what you're going to buy as a replacement. You may be able to affix the new antenna to the same mount as the factory unit.
Step 2) If you have to remove the factory unit, start by removing the "inner wheel well" (also known as the splash guard) inside the wheel well. Next, grab your tools (you'll want a 10mm wrench and some pliers) and get to work unscrewing the antenna base in the top of the fender. Finally, you'll want to pull the stereo out of the dash, disconnect the antenna wire, and then remove the old cable. To add the old antenna, you just reverse process. This article on 4Runners.org has some good images and more notes on the antenna replacement process.
Now onto those replacement options…
NOTE: If you don't want to do the antenna replacement yourself, your local stereo shop is a great place to get this work done. They usually have very affordable labor rates, and you just might be able to get a nice new stereo and a new antenna installed for a couple hundred bucks. Compare that price to your dealership, which will charge you just slightly less than $200…but that won't include anything but a new antenna.
1. Buy a Toyota replacement antenna online. ToyotaPartsCenter.net is a good source of cheap OEM Toyota parts, but you can also check TRDSparks.com. Whatever you do, beware of buying parts on eBay. Even if they say they're "genuine Toyota parts," they may not be.
2. Get a low-cost after-market AMI Big Stick antenna. The "Big Stick" antenna from AMI is only $38 from AutoAnything.com, comes in either black or chrome finish, and provided you get a 15″ or 21″ antenna, you'll be very happy with signal clarity.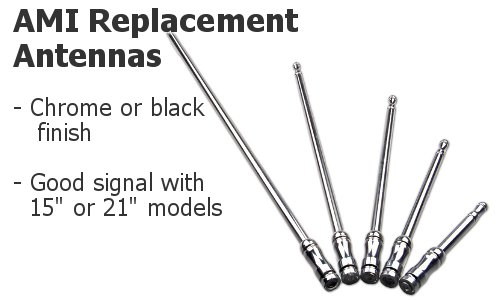 3. Check out the local junk yard. If you're willing to do the labor, you can get a like-new replacement for very little.
4. Get yourself a big ol' pair of whip antennas and attach them to the bed. OK, so maybe this isn't your style, but check it out: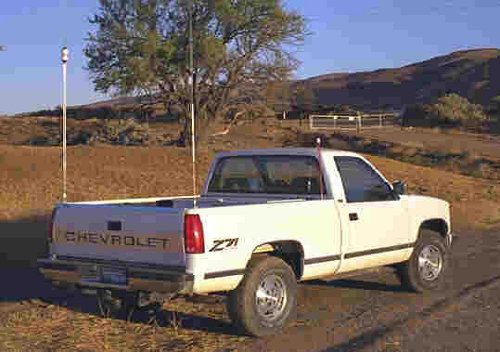 RadioShack sells whip antennas for CB radios that are over 6 feet long…definitely a good place to start.
5. Avoid windshield mount antennas unless you live in the big city. There are antenna wires you can mount to the inside of your vehicle's windshield, but they rarely perform as well as a simply fender mounted antenna. While it's true that most luxury cars go with a window-mounted antenna, they spend a lot of money. The cheap antennas you can find online aren't worth it of you live in a rural area with poor radio signal strength.