A recent AutoNews.com article suggested a new Nissan Frontier will be coming out soon. As a journalist who closely follows the industry, I would wager this truck will be revealed in January at the 2017 North American International Auto Show in Detroit, Michigan as a 2018 model. Here is what you can expect to see when the curtain is raised.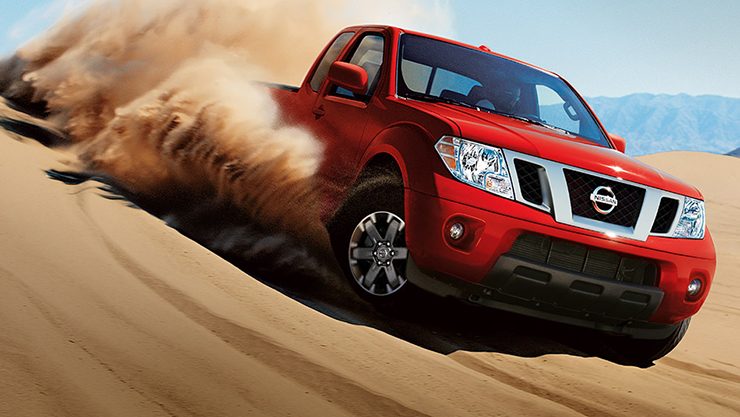 Before we dive into what this truck will look like, let's first understand it is really the only true competitor to the Toyota Tacoma. Sure, the GM twins are relatively new and the Honda Ridgeline is just now hitting dealers lots, but they aren't really competitors. I mean, the GM Twins have the same entry/exit departure angle as a Toyota Camry and are built for pavement really with a very tiny amount of off-roading. The Honda Ridgeline is similar to the GM Twins, in that, its targeted customer is nothing like Toyota's and while it offers some off-roading ability, it isn't nearly as much as the Tacoma. Nothing against GM or Honda, but their trucks are focused on a different customer than Toyota and Nissan aims for.
This customer wants to get dirty and enjoys beating on their truck knowing it will always perform. Climbing into either the Frontier or Tacoma, it is clear they aren't made for long-road trips and the urge to get dirty is almost overwhelming.
With this in mind, and the great sales success the Frontier has been seeing lately, leads one to believe Nissan isn't going to radically alter their truck to appeal to GM and Honda's targeted customer/viewpoint on the market. The 2018 Nissan Frontier will instead be improved to further attract its demographic and, with this mind, here is what you can expect.
Definite Enhancements
Here are the definite enhancements we think Nissan will do:
All-new exterior and interior design based either on the Titan or the Murano. My guess would be the Titan with a smaller version of the grille.
The technology within the truck will be completely overhauled with a focus on incorporating all the current tech found in the Titan and the Murano/Pathfinder. Among this technology will be a larger navigation screen with more apps. Plus, the audio system will be overhauled and the latest safety technology will be added.
New engine and transmission choices will be available with a new 6-speed manual and automatic transmission. Also, the 4.0L V6 will be discontinued and a 3.6L V6 will become the larger engine choice coming from the Murano and Pathfinder among other vehicles. This engine will simply be re-tuned to meet the Frontier's needs.
The Frontier will ride on a new frame incorporating a large increase in high-strength steel to cut weight while retaining the capability. There will also be other places where high-strength steel will be added to drop the weight as well as aluminum additions. This will improve the fuel economy by 3-4 MPGs highway and 2 MPG city.
Finally, the cab size will get slightly wider and longer to improve the amount of interior cargo room and to appease the U.S. customer who always seems to want more room.
Likely Enhancements
While items on this list aren't definite, they are likely enhancements considering the way the market is going.
New upgraded trim package ala the Platinum Reserve trim level found in the Titan. While critics may question who wants to spend $50k+ for a mid-size truck, the fact is sales results don't lie and mid-size customers want these luxury features.
More cab/bed configurations like a fleet-ready regular cab with an 8′ bed. It is pretty clear by now Nissan is getting serious about the truck market as well as fleet sales. With the aim to increase volume in all of its vehicles, Nissan will likely offer a slew of different cab/bed configurations as well as a regular cab model intended to boost fleet sales and thus volume.
A new turbo-charged engine will make its debut and will provide an alternative to the four-cylinder engine choice for Frontier customers. If there is one hole in Nissan's vehicle lineup, it is the lack of a turbo-charged engine and with the growth in truck and SUV sales, Nissan will aim to include this engine choice in the Frontier. It will be much like Ford's 2.7L EcoBoost with the off-the-line thrill combined with fuel savings versus the slower and thirstier naturally-aspirated V6 engines.
Speaking of turbos, one could see the turbo-diesel offering from Cummins coming to fruition. A few years ago, Nissan showed off a Desert Runner project truck with a 2.8L Cummins diesel engine producing 200 HP and more than 350 lb-ft of torque. This was mated to an 8-speed automatic transmission. While this could easily be in the "definite" category, it is much more likely Nissan will launch it later in order to keep the buzz around the new Frontier as well as give Cummins time to increase production capacity.
Another off-road package could make its debut. With Toyota's success in the Tacoma TRD Pro, Nissan engineers and product planners could be looking to enter a competitor to this truck. This would also compete with the 2017 Chevrolet Colorado ZR2 expected to make its debut soon. With the growth of that segment, it isn't a stretch to think a 2018 Nissan Frontier Desert Runner "Pro" could make its debut.
While any of these enhancements would dramatically improve the Nissan Frontier, it is very possible we won't see all of them. Nissan has a pretty good truck currently and they aren't keen on screwing it up especially with all the research and development costs being spent on the Titan. Something has to pay for the Titan and continued sales of the Frontier help.