Toyota launched a new advertising campaign, in partnership with Universal studios,  tying the Back to the Future date of October 21, 2015 with their new "futuristic" hydrogen fuel cell powered Mirai. Yet, we can't stop staring at the recreation of the iconic Toyota Tacoma from the movie.


Throughout the advertisement, the attention focused on the Mirai is warranted with its "turn garbage into fuel" angle, however, the 2016 Toyota Tacoma steals the show for us. It is a recreation of Marty McFly's dream truck which was a 1985 pickup.
Modifications on the truck include:
Custom painted the exact black from 1985
Off-road suspension
TRD Wheels and Tires
Custom light bars
KC Hilites lighting that replicate the iconic look, yet feature modern HID and LED technology
Custom Badging "EFI" now modernized with "D-4S" injection systems
Tailgate "Toyota" logo has been modified to look like the 1985 truck
Mudflaps are modified from a 1985 Toyota pickup
Along with the video, Toyota will be offering live and static displays in three major cities. If you live nearby, go check out:
NYC

Times Square, 43-44 Broadway Plaza
Broadway between 43rd & 44th Streets

9 a.m. – 9 p.m.

local time
Static display

Dallas

Various locations throughout Dallas

9 a.m. – 9 p.m.

local time
Mobile display (Tacoma truck on an actual flatbed truck, similar to the movie)

Los Angeles

Hollywood & Highland
Hollywood side, bottom of grand stairs
9 a.m. – 9 p.m. local time
Static display
The static display looks like a Hot Wheels toy packaging.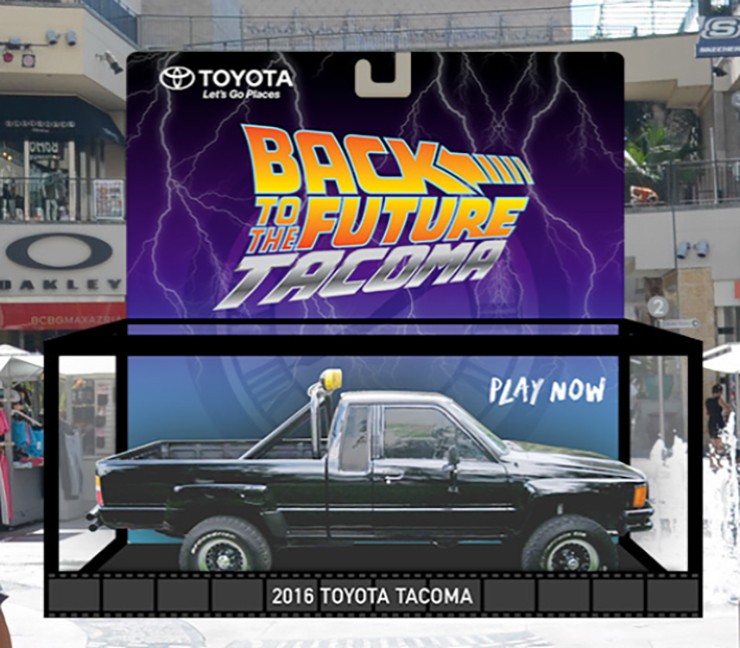 This date is also significant since Toyota plans to start deliveries of the Mirai in California. They expect to sell 3,000 units in the first year and more as infrastructure throughout the U.S. is further developed.
What do you think? Should Toyota offer the McFly pickup as a special package? Is it just a matter of time before a dealer recreates the truck?