One of the best parts of featuring trucks on this site is seeing all the unique and different ideas people use to customize their trucks. This 2007 "Volcano Taco" lives up to this. Armored up and lifted with sound flowing out of the bed speakers, it is ready for cruising the strip at night and tearing up the trails the next day.
The Volcano Taco has an impressive selection of brute off-road additions with the very unique and cool bed speakers. The owner who goes by SuthrnTaco07 on Tacomaworld.com built the truck with both the dirt and cruising the spring break strip in mind. It is a great combination of off-road and on-road good times!
SuthrnTaco07 said he fell in love with his truck on first sight – like a lot of Taco fans. He probably knew it would be just a matter of time until his wallet would be empty.
Bed Speakers – What?!?
Hands down, the bed speakers are a really cool part of this truck. We have seen a surge of audio ideas like a sound-deadened cabin, but nothing in the bed.Why put them in?
He says; "I know it might seem a little stupid but the ladies LOVE it when you're crusin' the strip during spring break in PCB! Besides, it doubles for entertainment while tailgating!"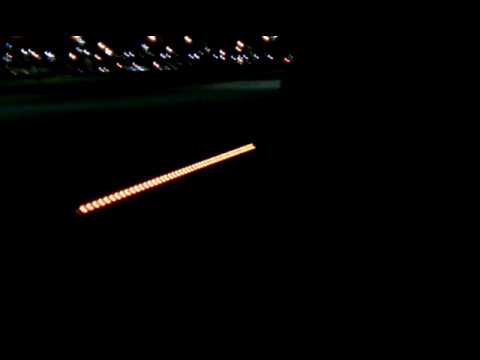 The 4" Boss speakers have an aluminum cone and polyurethane composite for the recoil. He says he settled on them after blowing out a set of boat speakers. While, you would think weather damage would be a concern with these bed speakers, he has had them for 2-½ years without a problem.
Custom Taco Badge
The hot trend lately with most modifiers has to be debadging their trucks. The idea is it gives the truck a "clean" look. This has certainly become a polarizing topic among truck fans.
We like how he found the middle ground. He debadged in places, yet he left the rear tailgate badge with a slight alteration – he shortened it to "Taco" from "Tacoma."
While this certainly isn't so unique – others have done this with "Toy" instead of "Tacoma" – it is a great way to customize it without completely debadging it.
Kobalt Herculined Tool Box
One item that is may get overlooked is the Kobalt tool box with a Herculiner finish. This tool box took a lot of work and the look really came out well.
Starting with the standard chrome box, he drilled out the rivets for the latches and the "Kobalt" name. Then, he sprayed the interior with clear coat to stop it from rubbing off. Next, he took a steel brush to the outside in order to scruff it up. This way, when he applied the Herculiner finish, it would stick.
Before he could coat it, he had to develop an anchoring system. Using 2-3" long 1/2" carriage bolts he drilled holes into the track system to keep the box locked in.
Now that it could be secured, he applied Herculiner over 3 days. With the weather not being his friend and being impatient, he opted to apply a layer of textured satin black Rust-Oleum spray paint. The finished look blends right into the bed and looks awesome.
Many More Upgrades
While the tool box, Taco badge and bed speakers are great, there are many other upgrades worth mentioning like the Relentless Fab Front bumper! Check them all out with this complete list:
Armor:
Relentless Fab Front bumper w/ Hoop and factory fogs mounted
Relentless Fab Rear High Clearance
Lift:
6″ ProComp Stage 1 Lift kit
6″ Custom Bilstein Shocks w/ OME 886 Coils in front
Wheels & Tires:
18″ KMC XD Addicts
35×12.50 R18 Federal Couragia M/T's!!!
Lighting:
35w HID Kit 5000k Headlights and 3000k fogs
20″ LED Light Bar 6000 Lumens
Mods:
FJ Cruiser Manual Transfer Case Swap with RST twin stick mod
Custom Solid Drive Shaft rated for 600+ HP
BHLM
Wet Okle Front Neoprene Seat Covers
Running light mod
Fog light mod
In-Cab Outlets
400w All time inverter mod
Diff breather mod
Red Line Hood Struts and EZ Down tailgate assist
Custom LED Bed lights
De-badged in places and made a "Taco" on tailgate
TacoAlamoshi Grill (TacoAlaMode Satoshi Grill)
BAMF Fab "TOYOTA" plates.
Stereo:
Factory head unit with a RCA converter box run to an AMP
Single 10″ Pioneer Comp Sub in a Q Logic Ported box de-ported and stuffed
4″ Boss 210watt Speakers in the bed
Accessories: 
Kolbalt Slim Line Tool Box 1000 series Herculined black
Smittybuilt XRC-8 8000lb Winch w/ Galvanized Aircraft Cable Painted Fairlead black
Which mod is your favorite feature?