What follows is meant to be a comprehensive list of TRD performance parts and accessories available for 2005 and newer Toyota Tacomas. We haven't listed off any of the dress-up parts like oil filler caps, radiator caps, etc…that stuff is cool, but it doesn't feed the machine, so we don't mess with it.
If you have a question about a part, or if it looks like we're missing something from our list, please comment below.
TRD Supercharger for 4.0 Tacomas
Available On: Most 2005-2010 4.0 Tacomas
Part No: PTR29-35090 and PTR29-35091 (fit kit)
Cost: $4,500
From TRD: "Features air-to-liquid intercooler, produces 304 hp @ 5,400 rpm and 334 lb.-ft. torque @ 3,600 rpm (up from 239 hp @ 5200 rpm; 278 lb.-ft. @ 3700 rpm). Uses Eaton Roots-type rotating components in a compact one-piece, supercharger plenum/manifold casting that integrates the heat exchanger core for the intercooler. Integral by-pass valve prevents supercharger from going into "boost" when driving at a steady state of speed such as on the highway or light traffic. Takes less than ½ hp to operate when by-pass valve is open, helping reduce parasitic drag from the crankshaft. Includes all necessary hardware for "factory installed" appearance. No cutting, welding or fabrication required for installation. Supercharger has self-contained lubrication, so there's no maintenance required on supercharger—or supercharger system components."
Notes: Yes, yes, and hell yes. TRD superchargers are powerful, reliable, and can not effect your powertrain warranty if they are installed by your local dealership. If you can swing the $4500 (plus install, which usually ranges from $1200 to $2000), this is the easiest way to add 65 hp to your 4.0 Taco.
More TRD Parts…
TRD Performance Brake Pads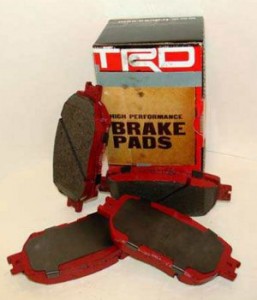 Available On: Most 2005+ Tacomas
Part No: PTR09-35086
Cost: $95 per pair is suggested retail
From TRD: "These high friction performance pads are made from a Kevlar and ceramic-strengthed compound. They provide a great combination of cold and hot friction, maximum operating termperature, and low noise levels. TRD brake pads come with anti-squeal shims."
Notes: TRD states their Kevlar®-ceramic compound is "the best price to performance ratio available in a high performance street pad." While that may be true, EBC Green Stuff pads and Hawk LTS pads are less expensive and just as well regarded in performance circles as TRD. Factory-backed performance is great, but so is an extra $20-$30 in your pocket.
Like all after-market brake pads, buying these TRD pads is basically trading an improvement in performance for a decrease in usable life. So, if you buy these pads, you'll be stopping better than before…but you'll also be buying pads a little more often.
Finally, be sure to follow the bedding procedure to the letter. That's the best way to maximize both performance and durability.
TRD High Performance Big Front Brakes Kit
Available On: 2005+ ExtraCabs with manual transmissions
Part No: PTR09-35050
Cost: $2,499
From TRD: "The TRD high performance brake kit helps improve stopping distance, reduce brake fade and realize better modulation and pedal feel. The four-piston opposed fixed caliper design is optimized specifically for the X-Runner, helping to maintain or improve braking torque distribution between the front and rear axles—and achieves shorter braking distances. A patented, directional AeroRotor internal cooling vane design induces greater airflow to cool the rotors, providing consistent performance in repeated or heavy duty braking. The racing-style, two-piece floating rotor assembly with billet aluminum center section helps prevent rotor distortion at high temperatures, promoting even pad wear and a consistent pad feel. The kit also includes performance brake pads and stainless steel braided brake lines."
Notes: This brake kit is sourced directly from StopTech, a well-known name in racing. If you have the means to buy a big brake kit for your X-Runner or ExtraCab 5spd 4×4, go for it. You won't be disappointed.
TRD Cold Air Intake for 4.0L V6
Available On: 05′ to 10′ Tacoma 4.0L's
Part No: PTR05-35061 (05′-09′) or PTR03-35090 (most 05′-10′)
Cost: $399
From TRD: "The dyno-tested TRD performance air intake creates more horsepower and torque by bringing cooler, denser air to the engine from behind and below the headlight area (rather than hot air from the engine compartment). Peak to peak power gain is +11hp @ 4,850 rpm and +19.0 lb.-ft. torque at 3,600 rpm; largest power gain is +15hp @ 3,150 rpm and +25 lb.-ft. torque @ 3,150 rpm (as tested on 06MY Tacoma.)"
Notes: As impressive as those numbers are, it's really important to remember that all cold air intakes improve performance using the same principle: they're louder. Factory air intakes are somewhat restrictive in order to be as quiet as possible for those buyers who don't want to hear a lot of throttle noise. If you don't mind hearing your engine rev, you will like you a cold air intake.
As far as going with TRD, keep in mind that AEM, aFe, Airaid, Injen, K&N, RBP, and Volant all offer cold air intake kits that are at least $100 less. Based on the fact that all of our testing of different Tundra air intakes on TundraHeadquarters.com arrived at basically the same results, there's no reason to believe the TRD kit is worth any sort of premium. This is a situation where you want to go after-market.
TRD Cat-back Single Exit Exhaust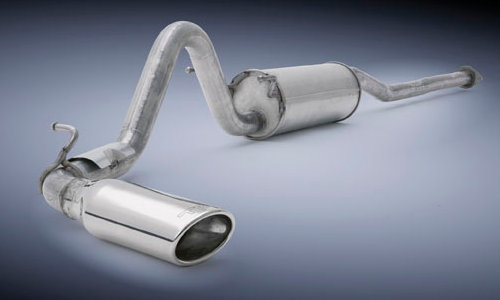 Available On: Most 05′ and up V6 Tacomas, excluding X-Runner
Part No: PT910-89061 or PT910-89060
Cost: $495
From TRD: "Meticulously engineered to be street-legal while also delivering greater power and tuned for ideal resonance, the easy-to-install TRD cat-back exhaust system adds a distinctive edge to the Tacoma. Features a stainless steel, TRD-logo-etched tip and side exit to maximize departure angle with a unique design that allows for a less restrictive exhaust path resulting in less back pressure – providing an impressive combination of increased horsepower (5-8 wheel hp, depending on application) and a deep, throaty growl."
Notes: TRD exhaust systems are perfect for Toyota owners who don't mind spending a little bit of a premium for a nearly perfect system. Very few TRD exhaust system owners complain about drone issues that haunt many other after-market exhaust systems. Having said that, this is a relatively quiet system. If you want to really make a statement and/or open things up as much as possible – or if you want a true dual exhaust – this isn't the right system for you.
TRD Performance Air Filters
Available On: Almost all Toyota Products
Part No: Varies
Cost: $75!
From TRD: "Pre-oiled and ready to install. Washable and reusable. This exact drop-in replacement filter will last the life of the vehicle, provide unrivaled engine protection and increase air flow."
Notes: Three words, people: K. And. N. Less than $50, just as good as anything TRD builds, and available everywhere. Don't spend $75 for a $50 air filter.
TRD Quickshifter
Available On: Most 05'+ V6 ExtraCabs or DoubleCabs
Part No: PTR04-35051 or PTR04-35052
Cost: $349 + TRD shift knob ($30 up to $100)
From TRD: "The TRD quick-shifter delivers shifting that's faster and more positive, courtesy of repositioned pivot points that provide up to a 30-percent shorter shift throw and a sportier, more responsive feel. Featuring a retro-style TRD-branded shift knob to accelerate the vehicle's unique personality, the high-quality construction features an impressively high strength-to-weight ratio, making it the perfect accessory for high-performance driving."
Notes: Sure, why not. Shorter shifts mean quicker shifts, and that can be a nice benefit on the trail AND at the next stop light race. (Don't try that at home, kids).
TRD "Beadlock Style" 16″ Rims
Available On: Most 05+ 4×4 or PreRunner Tacomas
Part No: PTR18-35090-BR
Cost: $219 per wheel
From TRD: "Constructed of low-pressure cast alloy, these TRD-branded 16-inch off-road beadlock style wheels offer owners a distinctive and rugged upgrade to their stock wheels. They provide a higher strength-to-weight ratio for optimal performance and feature a bronze painted finish and machined outer lip with beadlock styling. TRD-embossed snap-in center cap included."
Notes: These are some nice looking wheels, and we certainly wouldn't blame anyone for buying them. HOWEVER, after-market cast rims are available in hundreds of colors and sizes, and they usually cost about half as much.
Also, the recommended tire size for these babies is 265/70 R16.