In part one of our short series on aftermarket steel bumpers for the Toyota Tacoma we discussed some of the benefits of installing a steel bumper on your Tacoma. Let's take a look at a few of the options that are currently out there on the bumper market from a variety of different manufacturers.
ARB Deluxe Bull Bar
In our introductory bumper post we included a picture of an Expeditions West truck with an ARB Deluxe Bull Bar installed on the front.
The Deluxe model is cut from a single piece of steel, is stress-tested to guarantee safe winch mounting, offers secure positions for adding off-road lights and also provides recessed light openings to protect fog lights. Pricing for the ARB Deluxe Bull Bar is in the $700 to $950 range.
All-Pro Off Road Tacoma Bumper
The All-Pro Off Road bumper for the Tacoma adopts more of a desert-runner style as seen by the acute angles and swept side wings that are meant to reduce the truck's overhangs and provide excellent clearance whether you are leaping over dunes or climbing across a field of boulders. The modular bumper (ships in four pieces) is also offered with an optional light bar, and features room for an integrated winch. Pricing for the bumper is around $900, but shipping adds another $250 to that amount.
Relentless Fabrication Steel Bumpers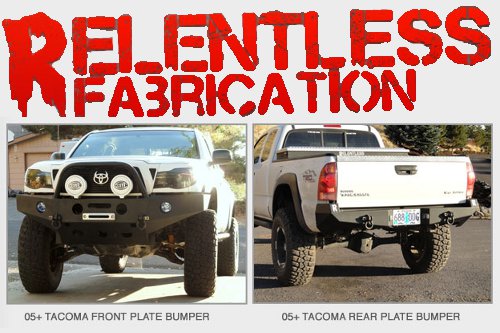 Relentless Fabrication makes hand-built custom front and rear steel bumpers for the 2005+ Tacoma. Special thanks to BlueTacoMan for bringing this to our attention!
Road Armor Stealth Bumper
Road Armor provides one of the most stock-looking off-road steel bumpers on the market. The Stealth bumper comes in three different versions: base, Pre-Runner and Full Guard. The Stealth base bumper offers a much more subtle wrap-around than other aftermarket options which still providing room for winch mounts and protecting the front of the truck from serious damage. The Pre-Runner features a more prominent, bulging style while the Full Guard model comes with a form-fitting steel tube cage to protect the light and grille surrounds. Road Armor also offers a Stealth base bumper for the rear of the Tacoma. Pricing for front bumpers starts at $1,440.31, while the rear unit is available for $1,196.25.
Trail-Gear Rock Defense
Trail-Gear Rock Defense bumpers provide aggressive-looking protection for both the front and the rear of the Tacoma. These bolt-on steel bumpers fit without the need for any welding or cutting, and they feature winch mounts and anchor points for vehicle recovery. Trail-Gear also offers a set of Low Profile bumpers that offer undercarriage protection with more subdued styling. Pricing begins at a very affordable $419 for the front and $289 for the rear.
Demello Off-Road
Demello Off-Road doesn't provide much information about its Tacoma bumper offerings, but the company does state that it will built any custom bumper that is needed for a specific task. Pricing is dependent on the style of bumper selected.
Do you know of a steel bumper that's not listed here? Please tell us about it in the comments below.