Cowcatchers, bull bars, brush bars, bumper guards – these are all terms that have been applied to the aggressive hunks of metal tubing that can be seen attached to the front of the Toyota Tacoma in place of the standard bumper. You might even see a few Tacomas with a similarly-imposing bumper hanging off the rear of the truck as well.
Aside from the occasional truck owner who adds these types of heavy-duty bumpers simply for style reasons, oversized and over-built steel bumpers are usually installed for a specific purpose. Let's take a look at a few of the reasons why you might want to outfit your own Tacoma with this type of bumper.
1. Off-Road Protection. Stock Tacoma bumpers are meant to absorb and deflect the energy of low-speed collisions without causing expensive damage to the rest of the vehicle's body work. This means that they aren't necessarily going to be a big help should the front or rear of your truck encounter the ground – or another fixed obstacle – at an acute angle. A well-designed off-road bumper can help support the weight of your truck while sliding downhill and protect important driveline components as well as your truck's fenders and your hood. It can also help to reduce overhangs which can hang your truck up when traversing uneven terrain.
2. Winching. A powerful winch needs not just a strong bumper on which to anchor itself, but also enough room to be properly installed. A flat bull bar bumper often provides just enough space so that a winch will fit with ease on top, with some bumpers offering support for internal winch installation.
3. Animal Impact. When any vehicle – even one as large as the Tacoma – encounters a deer or a mouse on the highway, both the automobile and the animal typically end up "losing." A strong push bar-style bumper can help reduce the amount of damage done to your truck should you ever find yourself unable to avoid a collision with one of nature's less intelligent creatures. It might even help to protect you from injury in a worst-case scenario.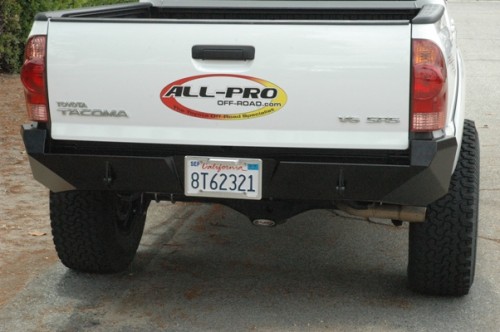 4. Traffic Accidents. Someone backing into your stock bumper can make a real mess of your truck. Someone backing into your solid steel bull bar is unlikely the even budge your Tacoma from its parking space. The value of these types of bumpers in standard traffic accidents is high from a self-preservation perspective. Of course, the damage that they can do to other vehicles might give one pause, especially if there is a significant height difference involved (such as with a lifted pickup).
What Options Are Out There?
There are a number of different aftermarket steel bumper replacements available for the Toyota Tacoma. In our next post, we'll take a look at several specific examples that are meant to fit seamlessly into a stock Tacoma's body work and offer the types of protection and utility listed above.