With a sound deadening cabin, 35-inch tires, swing out spare tire holder and a 50qt fridge freezer, this week's feature truck has many cool modifications. How do you choose the best one? You can't, they are all great features.
Slimwood Shady/Linwood over at Tacomaworld has this really impressive Tacoma with an equally impressive build thread as well. His thread is full of before/after pics, videos and commentary on the install.
The build began on July 22, 2009, when he purchased his first brand new car, Silver Streak Mica 2009 Toyota Tacoma Double Cab TRD Off Rd Edition.  He got it with a Remote Start Alarm, Tube Steps, TRD Exhaust, Tow Package, First Aid Kit, Floor Mats, 6 Disk in-dash CD Changer, and iPod Adaptor all for $30,000.
Here is a quick summary of the build, click here for the build thread.
The current list of mods:
Lighting
The Retrofit Source Retro (GB) – DS2 Mini w/55watt ballasts and Phillips bulbs, Apallo Shrouds
IPF Fog Lights
Anytime Fog Light Mod
LED Dome and Map Lights (GB)
LED Bed Lights (GB)
Audio/Visual
Eclipse AVN 726e
JL Audio HD 900/5
JL Audio 13TW5
Hybrid Audio Clarus components in all 4 doors
Back up camera in rear view mirror connected to head unit for back up camera
4Runner Blutooth steering wheel controls
Completely sound deadened cabin (MLV, CCF, Dynomat)
Columbia Overland Dual Battery Box w/2 Diehard Platinum Grp 35 Batteries
Interior Comfort
Wet Okole Seat covers (GB) (Graphite grey and black with gun tote, seat heaters, map pockets)
Wet Okole Arm rest mod (GB)
Black
Weathertech Digital Fit Floor Liners (GB)
TRD Shift Knob
ARB 50 Qt Fridge Freezer with ARB slide and tie down
Communications
Uniden PRO510XL
Wilson 1000 antenna
Here is just one of several cool offroading videos.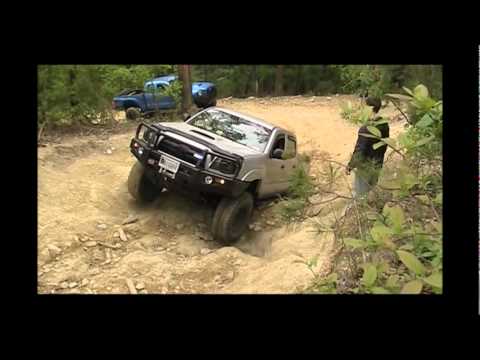 Suspension/Wheels/Tires/Drivetrain
Icon Dynamics 2.5 Extended Travel Coilovers w/King Springs 14″x700lbs
Icon Dynamics rear VS. 2.0 shocks custom length
Total Chaos UCA
Nitro 4.56 gears-ECGS Solid Spacer for rear
All Pro Expedition rear leafs
All Pro U-Bolt Flip Kit
16×8 Procomp 7089s
315/75/16 Goodyear MTRs with Kevlar
Cab Mount Chop
ATO Shackle Flip
Armor
ARB Deluxe Bull Bar Bumper
ATO Rear Wrap Around bumper w/tire carrier
ATO Front skid plate (GB)
ATO Transmission Skid
ATO T-Case Skid
ATO Gas Tank Skid
BAMF LCA Skid Plates (GB)
4x Innovation Sliders DOM w/Kickout (84″)
Recovery
Smittybilt XRC8 Winch w/in cab controls (regreased gears)
Hilift 48″ jack
ARB OBA w/1 Gal Viar air tank
Southeast Overland 3/8″ amsteal blue line
Rugged Ridge strap, d-rings, gloves, tree saver
Bubba Rope
Exterior
Debadged
Sport Hood
20% window tint
Toyota Bed Mat
Redline Hood Struts (GB)
Leer 100r Topper
Protrack Roof Rack (on topper)
AVS In-Channel Window Deflectors
AVS Hood Deflector
OEM Roof Rack
Homertoshi
ruggedT Bedside Decals
Performance
TRD Exhaust
ARB Safari Snorkel
EBC Green Stuff Brake pads
EBC dimpled and slotted rotors
Future Mods:
We got a chance to talk with Linwood and get some insight into his truck build.
What mod gets asked about the most?
Probably about the 35s and 3″ lift.
What was the toughest mod?
Without a doubt the shackle flip! It was the most work. The idea is simple, but those rivets suck!
What was your build inspiration/idea?
I wanted a mixture of an expedition and a rock crawler. I have been stealing ideas from JAndrews and a few other members on here (Tacomaworld).
What advice would you give to someone just starting out?
What I tell everyone is buy once cry once. It is better to save up and get what you really want than to buy a contingency part. You will end up buying what you wanted eventually anyway. Nothing worse than throwing away money.
I'm surprised people don't ask about the swing out spare tire. You just don't see those that often (in my neck of the woods – Colorado).
They do, but most Taco guys ask about the 35s. That and the sound deadening. Here in VA, a lot of us have them. I can think of 6 off the top of my head.
I was just reading about the sound deafening. That's another thing I haven't seen. I'm surprised that wasn't your hardest mod based on the time and effort involved. What caused the big increase in road noise? The lift, tires, something else?
I grew up doing car audio, so interior removal is pretty easy. That was my purpose for the mod. The road noise came from the larger tires.
Looking over these pictures and watching the videos leads us to the conclusion that he NAILED it! This truck is definitely a mixture of expedition and rock crawler! Great job.
Want to have your truck featured? Contact Associate Editor Tim Esterdahl at editor@tacomahq.com.