UPDATE: On the eve of a new SEMA show, Nov. 5-8, we thought we would re-run this post about the gamer Tacoma.
At the 2009 SEMA show, Toyota showed an "All-Terrain Gamer" custom vehicle that was somewhat modeled after the one-of-a-kind "Warthog" made famous by the Halo video game series. The Tacoma All-Terrain Gamer featured both "active" lifestyle accessories like big tires and bike racks as well as an incredible video game console.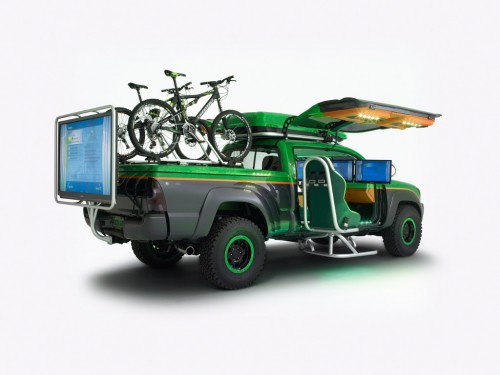 In November 2009, this Toyota Tacoma was a star at the largest car show in the world. 14 months later, it's stuffed with pre-teens pulling "babysitting" duty at Denver's National Western Stock Show and Rodeo*.
Funny, eh? Seems like a less-than-fitting destination for a show truck.
All-Terrain Gamer Tacoma Features
I spoke to Peter at Podium Marketing, the company that helps Toyota with promotions at events like the Stock Show, and he was able to give me a tour of the Tacoma as well as a few notes.
My first question – Does the ATG Tacoma actually drive?
Answer: Yes. But no one drives it except on and off the trailer.
Peter explained that each of the outboard seats disconnects from the frame and the lifts into a hidden mount, placing each seat exactly where they should be to make the vehicle driveable. The monitors fold out of the way, and boom: it's almost like a regular old Tacoma (except for the thousands of dollars of very special extras).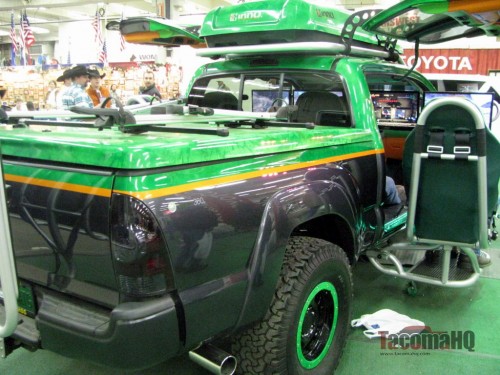 The exterior appearance of this truck is pretty special – the neon metallic green color on the top half of the truck is a vinyl wrap. The 16″ wheels have a matching neon-green "bead lock" (it's in quotes cause' it's not really a bead lock wheel) and some nice big 295/75 R16 tires (BFG A/T TKO's, to be exact).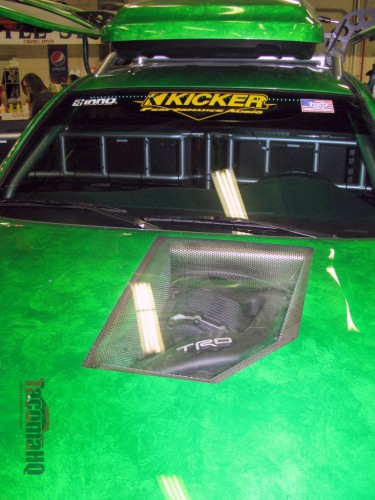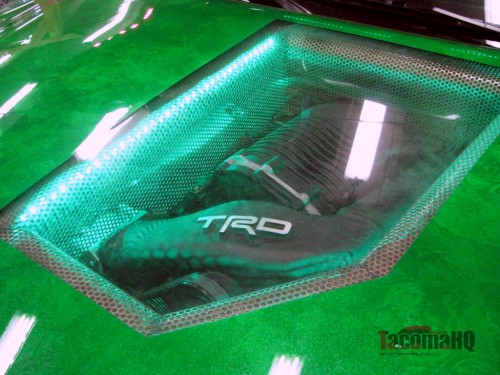 The hood is a nice touch too – there's an acrylic panel that showcases the TRD supercharger.
Gullwing doors? Why not. That makes mounting those outboard gaming seats (which were quite comfortable) that much easier.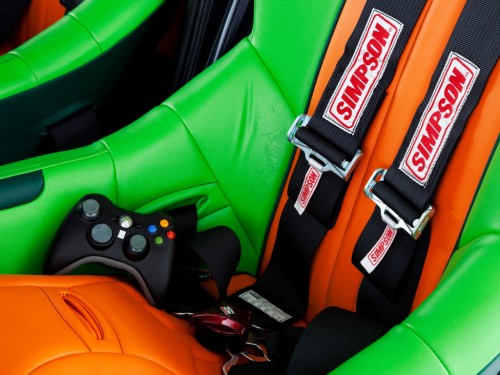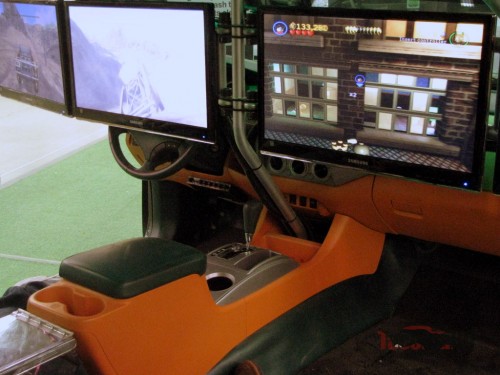 Obviously there are a lot of electronics – 4 monitors inside (one for each player) + one large monitor out back. If you're into video games, you'll appreciate that this configuration was designed specifically for 4-player HALO. There's a sound system to match the video game system too.
*Be sure to check out TundraHeadquarters.com for more coverage of the Toyota display and sponsorship of the 2011 National Western Stock Show in Denver, Colorado.