Recently, we interviewed Andres Diaz who is known for making the Toyota Devil Horns emblems for Toyota cars and trucks, notably the Tacoma and Tundra. Along with our Q and A, we are offering a contest to our readers. Click here to learn more.
What gave you the idea to create this product?
My friend Robert showed me the logo back in 2005 on the internet and commented that it would be a good idea to make one out of aluminum to be mounted on his truck. I had the idea and intention of making one for him and didn't get around to working on it until finally I had surgery on my foot and had lots of time available in bed to work on the 3D logo while recuperating from my surgery. There had been attempts to make devil horns before from plastic stickers on the emblem to aluminum foil in the shape of horns but nothing made from quality materials and a good design. Robert was expecting a 2D pattern logo but he was blown away when I presented him the 3D logo that I came up with. If it weren't for him I wouldn't have made this type of emblem.
What are the most popular options and colors? Most popular vehicles?
Most popular options are polished emblems, then flat black powder coated and three-color "horns on fire". Most people order Devil Horns for Tacomas and Tundras.
Are each of these created to match existing orders, or do you create them based on what you think demand might be?
I have a good idea of the quantity that I'll need for every batch so I try and fill that quantity first. Also I have a minimum quantity of every type of emblem in stock even if that type of emblem has a low number of buyers. After the batch has been closed I separate the emblems according to the type of finish and send them to other shops for finish treatment.
What did it take to get through to Toyota and get their permission to create these?
My intentions were to make only one emblem for my friend but after making the first one I had material left over so I made a few more and put them eBay. Shortly after that people were talking about the emblem on forums and I had emails from people asking for more emblems. It didn't take long for Toyota's legal department to contact eBay and put a stop to what I had going on. my eBay account was suspended as well as PayPal and was told that they contacted Forum operators not to let me put them for sale on their site. It took me a few emails and phone calls to get to the right people in Toyota's legal department and after talking things out I was given permission to make them trice a year and was given specific instructions on how, where and when to sell them. Five years later here I am still making them under their guidelines.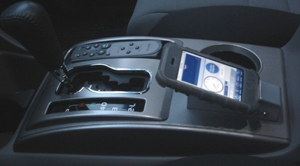 Do you have any other products planned in the future, and/or anything else we should mention for you? I know you've made a custom iPod mount in the past (see photo on the right). Are you still offering this item or something else?
I have many products I'd like to make for Toyota vehicles but they take lots of time and research. I have about six different types of products for Toyota vehicles that I have started and at least have a physical prototype but haven't had time to finalize the product. The Iphone dock was something I made as a one-time deal, it works but I see it as an unfinished product. Soon I'll be putting the other products I have in mind available for anyone.
According to Diaz the emblems come in the following sizes:
2011+ Tacoma (emblem width: 6.30 inches)
2005-2010 Tacoma (emblem width: 5.51 inches)
2001-2004 Tacoma (emblem width: 4.45 inches)
1995-2000 Tacoma (emblem width: 4.29 inches)
2002-2006 Tundra (emblem width: 6.30 inches)
2007+ Tundra (emblem width: 6.69 inches)
2002-2004 4Runner (emblem width: 4.72 inches)
2005-2009 4Runner (emblem width: 5.49 inches)
2010+ 4Runner (emblem width: 5.91 inches)
1992-1995 Pickup (emblem width: 4.02 inches)
2003-2008 Corolla (emblem width: 4.31 Inches)
And the following options:
Natural raw aluminum
Shot penning with layer of clear powder coat
1 color anodize and shot penning
3 Color anodize (horns on fire), and shot penning
1 Color anodize, shot penning and clear powder coat
3 Color anodize (horns on fire), shot penning and clear powder coat
Black, white or red powder coat
Polished with clear powder coat
As far as pricing, Diaz states, "Due to a legal agreement I have with Toyota's legal department I am unable to show prices online. Feel free to contact me for a price list at: customdevilhorns@hotmail.com."