BDS Suspension recently announced that it is adding a 6" suspension lift for the 2005-2012 Toyota Tacoma. These new suspension systems keep with BDS's tradition of using "full one-piece front/rear crossmembers coupled with precision machined ductile cast iron steering knuckles."
According to BDS, "the steering knuckles are designed to work within the factory traction control constraints and provide stock-like handling characteristics. The knuckles are also considerably more robust in both the mass and strength over the OE components."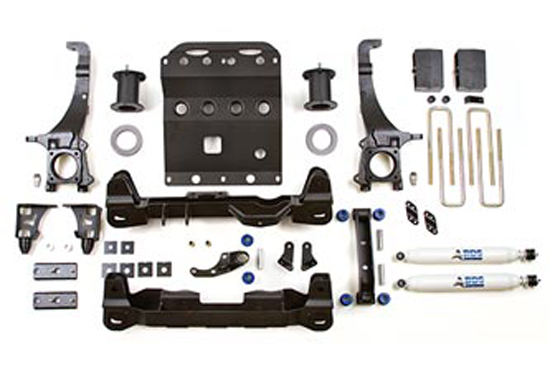 What's in the box
¼" steel plate built crossmembers
Have integrated differential mounts
New provided differential mounts
Belly Skid Plate
For the rear lift, BDS supplies multiple lift block options with 3" and 4" sizes available as well as longer u-bolts, 5500-series shocks, and all the necessary brake line/wire relocation brackets. This system allows for up to 35×12.50 tires to be installed on 18×9 or 20×9 with 4.5" backspacing.
Can I Install It Myself?
The kit is described as having a 3 out of 5 difficulty rating and should take 6-8 hours. Although you should consider what types of tools and garage setup you will have access to. If you have a lift, a large selection of tools and a decent amount of mechanical knowledge this can be a relatively quick and easy install.
Tire and Wheel Combinations
35 x 12.50 w/18 x 9 and 4.5″ Max. back spacing
35 x 12.50 w/20 x 9 and 4.5″ Max. back spacing
Price
The stock kit runs $1,841.53 and includes different customization options.
Warranty
BDS offers what they call a "No BS Hardcore Lifetime Warranty."
Related Posts: